Whiplash & Neck Injury Claims
What is whiplash? How do I know if I have it?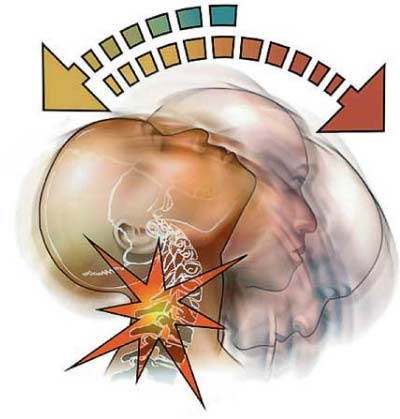 Whiplash is an injury to the neck caused by the sudden jerking movement of the head, most commonly as the result of a road traffic accident or an accident at work. This jerking movement causes damage to the soft tissue in the neck – an injury known as whiplash. It can be a tricky injury to deal with, as the symptoms don't normally appear immediately after an accident. It may take up to 12 hours or more before you actually start to feel some of the effects. It's normal for symptoms of whiplash to display a few days after the accident.
Common whiplash and neck injury symptoms
The results of an accident can sometimes be severe, ranging from whiplash to fractures of the neck, or even serious spinal injury. Serious neck injuries can have a lifelong impact and cause permanent disability.
The symptoms of whiplash or a neck injury can be varied, but they typically include:
— pain and stiffness in the neck or lower back,
— swelling and numbness,
— pins and needles in the arms and hands,
— restricted movement,
— muscle spasms,
— dizziness,
— tiredness,
— blurred vision,
— ringing in the ears,
— headaches.
These symptoms worsen and endure longer depending on the extent of the accident. In most cases, the worst of the pain usually lasts a maximum of one month.
Treatment for whiplash injuries
Thankfully, in most cases of whiplash, treatment is a simple process of getting plenty of rest and allowing the injury to heal naturally. Keeping your neck mobile is important, so doing simple neck exercises is key to a swifter recovery. Using a suitable pillow when sleeping is also recommended, but you should avoid having more than one pillow.
However, cases of chronic whiplash can sometimes take more than six months to get better. Physiotherapy may be needed to help the recovery process, and your physiotherapist will teach you neck exercises to do at home.
For mild or moderate pain, taking paracetamol or ibuprofen is the best option. It should be taken regularly until the injury is healed, rather than just when the pain is at its worst. For severe pain, your doctor will usually prescribe stronger painkillers, such as codeine.
WHIPLASH VIDEO
Get more information on making a claim for whiplash and neck injury compensation with this helpful video guide.
I have suffered whiplash, can I make a claim?
Before launching a no win no fee claim for whiplash compensation, you must first establish that the negligence of another person or party was the direct cause of your injury. For example, if someone crashes into the back of your car while you're waiting at a roundabout or a set of traffic lights, then the other driver is at fault and you will be able to start a claim against them.
When deciding whether or not to make a whiplash claim, ask yourself about the severity of your injuries. It's not really in your best interest to make a claim if your symptoms are quite mild and clear up after only a couple days. You should never exaggerate your injuries as the courts will be sure to reference your testimony against your medical records.
On the other hand, if your whiplash injuries are more severe and you've been forced to endure a great deal of pain or miss work for a period of time as a result, there is a good chance you're entitled to make a claim for neck injury compensation. If you're still unsure about whether or not you have a valid claim, it's always best to consult with a personal injury solicitor and see what he or she has to say.
How much will I get if I win my whiplash claim?
Every case is different, so it is difficult to say how much exactly you will receive if you win. However, there are guideline amounts which judges use to decide how much compensation to award for pain and suffering. These figures do not include compensation for loss of earnings, medical expenses, etc. The example amounts below are taken from the twelfth edition of the Judicial College Guidelines for the Assessment of General Damages in Personal Injury Cases.
| Injury Type | Description | Compensation Amount |
| --- | --- | --- |
| Severe Neck Injury (I) | Injuries including incomplete paraplegia, permanent spastic quadriparesis, limitation of movement and/or severe headaches. | Around £130,060 |
| Severe Neck Injury (II) | Serious fractures or injuries to discs in the cervical spine which cause disabilites less severe than those listed above, but lead to limited movement of the neck or one or more limbs. | £57,620 – £114,810 |
| Severe Neck Injury (III) | Injuries such as fractures or dislocations, or serious soft tissue damage and/or ruptured tendons which lead to permanent disability. | £39,870 – £49,090 |
| Moderate Neck Injury (I) | Fractures or dislocations causing immediate symptoms and which may require spinal fusion. Includes soft tissue injuries to the neck, and injuries which limit function or leave the victim vulnerable to further trauma. | £21,910 – £33,750 |
| Moderate Neck Injury (II) | Soft tissue or wrenching-type injuries, or severe disc lesions resulting in cervical spondylosis, limitation of movement, permanent or intermittent pain, stiffness or discomfort. Includes injuries which exacerbate existing conditions for a period of five years or more. | £12,050 – £21,910 |
| Moderate Neck Injury (III) | Moderate soft tissue injuries which have taken several months/years to heal. Accidents which have exacerbated an existing injury for a shorter period of time, usually less than five years. | £6,920 – £12,050 |
| Minor Neck Injury (I) | Soft tissue injuries where a full recovery is made within one to two years. | £3,810 – £6,920 |
| Minor Neck Injury (II) | Soft tissue injuries where a full recovery is made within several months to a year. | £2,150 – £3,810 |
| Minor Neck Injury (III) | Soft tissue injuries where a full recovery is made within a few months. | Up to £2,150 |
After you've spoken with your personal injury solicitor, they will be able to give you an idea of what you can expect to be awarded in compensation. This calculation will be based, among other things, on the severity of your injuries, the length of time you endured your injuries and your loss of earnings as a result of missing work.
It's important to take note that, while it may take longer for all the pain to completely disappear, you will only be compensated for the time in which you we're unable to act as you normally would.
I'd like to talk to someone about all this. Can I get free legal advice?
Absolutely! Our personal injury specialists are waiting by the phone for your call. Together, we can discuss your whiplash claim and determine your next steps, working on a no win no fee basis. If you would prefer us to call you, simply fill in your name and number at the top of this page and hit the submit button.