Charity Acclamation Award
Nominations are now closed for the Charity Acclamation Award – but you can still vote for your chosen charity to come out on top!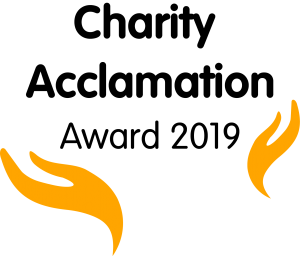 Have you been overwhelmed by the support you've received from a charity? Have they helped you or a loved one in a truly meaningful way, and you wish you could give something back to them? Well here's your opportunity!
The Charity Acclamation Award aims to reward small, grassroots charities not only with appreciation, but with a cash prize towards their cause – and all you have to do is vote for them below!
There are three prizes available:
1st prize: £3,000
2nd prize: £1,000
3rd prize: £500
Each prize is awarded based on a community vote, meaning the work your chosen charity did supporting you, a loved one or your community could be recognised nationwide too – a fantastic opportunity for smaller charities.
Nominations are now closed, and our panel of judges have chosen a shortlist; whether you nominated them in the first place, or want to help them come out on top of the votes, be sure to add your vote for them below before voting closes on 3rd June!
Terms & Conditions
Eligibility
Entrants must be aged 18 and over.
Proof of charity registration will be required before monies will be released to winning charities in first, second and third place.
All nominated parties must be registered as a charity in the UK.
This competition is NOT open to employees of Claims.co.uk, their families or anyone else associated with this competition. The Marketing Director's decision as to the eligibility of non-Claims.co.uk parties will be final.
The nominated charity may be asked to provide proof of eligibility at any stage during this competition.
Entry process
Only one entry per person is permitted.
Offensive, incomplete, incomprehensible or incorrectly completed entries will not be counted.
Claims.co.uk do not accept responsibility for entries that are lost or delayed, or which are not received for any reason.
All entries will be given careful consideration and must be written in English.
Winners' selection
A shortlist will be published in advance of the announcement of the winner.
Shortlisted candidates will be notified directly by email. Shortlisted candidates may also be contacted for promotional purposes by our marketing agency, atom42, for the competition on the telephone number provided in the entry form. Neither email or phone number will be used for purposes other than the competition, and all entrant's data will be removed from our system at the close of the competition. You can find out more about our privacy policy here.
By entering the competition, you grant to Claims.co.uk, its agents, and others working under its authority, full and free use of any information regarding your nomination during the competition process. You agree that we may publish and share your name, age, location, your submitted nomination, details of your nomination and information related to your entry. You will retain ownership of copyright in your entry but you give Claims.co.uk (and any third party authorised by Claims.co.uk) your irrevocable permission to use, reproduce, publish, display, transmit, copy, amend, store and sub-licence your entry worldwide for such promotional purposes and for the purposes of the competition.
Entrants agree to take part in promotional activity if entry is shortlisted and agree that images or quotations may be used for news, research and/or educational purposes in any medium including but not limited to printed publications, displays, on television or on the Claims.co.uk website intranet or social media properties.
Prize & Delivery
The winning entry will be published online at www.claims.co.uk/charity-acclamation-award.
We award cash prizes in the form of a cheque in the name of the prize-winner.
The prizes are not transferable and non-exchangeable.
Rights
Claims.co.uk reserves the right to make changes to the rules of the competition at any given time. In the event that we do amend the rules, we will publish them and it is the sole duty of any entrant to keep themselves up to date with any changes.
Claims.co.uk reserves the right to end this promotion at any time, and without notice.
If there is any disagreement over the rules, conduct or decision made by Claims.co.uk, we want to make it clear that our decision is final. We will not enter any discussion with entrants who disagree with the rules or the winner chosen by Claims.co.uk.
By entering this competition, you agree that you will be legally bound by these terms and conditions. These Terms & Conditions shall be construed in accordance with and governed by the laws of England and Wales.