Slips on Snow and Ice Injury Claims
Responsibility for keeping footpaths clear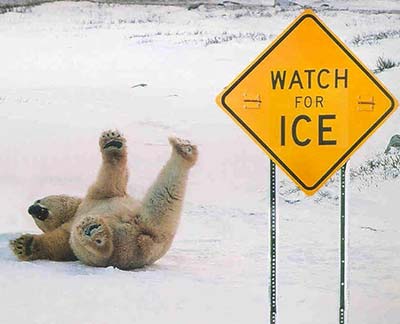 When winter begins to bite the issue of simply getting from A to B can become a huge problem. On a larger scale, roads and rail networks shut down and, in the worst cases, even airports struggle to cope, but for the average person it can be just as troubling to realise that simply walking round the corner to the shops can become a hazardous endeavour.
As snow falls, frost bites and ice forms, the pavements can become as dangerous as an ice rink and it is the responsibility of the relevant local authority to see to it that they remain safe. The Highways Act of 1980 states that the Highway Authority in question (usually the local council) has a duty to ensure, as far as is reasonably practicable, that the pavements and roads are safe to use.
The key to this law is the phrase 'reasonably practicable', since this recognises that it is impossible for any local authority to make every footpath which falls within its' jurisdiction safe as soon as snow or ice forms. If you slip on a freshly frozen or snow covered pavement therefore, it's unlikely that an injury solicitor will recommend pursuing a claim for compensation, since the local authority could reasonably offer a defence of not having had enough time to do anything about the situation.
Slipping on snow or ice due to negligence
If, on the other hand, you feel that the authorities have had more than enough time to clear the pavement upon which you slipped, and that they therefore behaved in a negligent manner, then you may have a legitimate claim for compensation. If you do slip and injure yourself on an icy pavement it's vital to record as many details as possible as soon as you can: where was the pavement? How long had it been icy? Had it been reported as unsafe to the authorities? Had they made any attempt to make it safe? If possible, take a photograph of the dangerous pavement before the ice is cleared or melts, and also gather the accounts of any witnesses who saw you fall or have encountered problems of their own in the same spot.
Having said all of this, it should be borne in mind that the first thing to do in the event of any accident is to seek medical help. Even if you feel okay you may have suffered internal injuries or those such as whiplash which can take a while to become apparent. On top of this, a prompt medical consultation will provide an official contemporary account of exactly how you've been injured.
DID YOU KNOW: According to the Hospital Episode Statistics for England, 2,919 people were treated at hospital in 2014/15 after slipping on snow or ice.
The scale of the problem
Whilst some falls on snow and ice may seem fairly trivial matters, more a cause for embarrassment than anything else, the official figures mentioned above demonstrate just how serious they in fact can be. As stated, the responsibility for clearing dangerous snow and ice from public roads and pavements lies with the relevant local authority, but if you slip on a pathway which is on private land then the situation is different. In cases such as this – when you slip on a frozen path leading up to a shop, for example, or whilst crossing a train station platform – then the responsibility lies with the person or persons known as the 'Occupiers'. In simple terms, this means whoever is responsible for the management and upkeep of the premises in question, and the legal situation is covered by the Occupiers Liability Act 1957. This piece of legislation states that the occupiers have a duty of care to anyone visiting, and this duty of care extends to taking reasonable steps to ensure that walkways are free from hazardous snow and ice.
Again, the key issue as far as any claim for compensation is concerned will be establishing whether the occupiers had taken reasonable steps to deal with the wintry conditions. The more information you can gather – such as details of when any snow fell or when freezing was likely to have taken place, together with any official warnings that may have been given by the authorities – the better placed our injury lawyers will be to decide whether you have a legitimate claim. If it can be demonstrated that the occupiers should have known that a risk would become present, and had time to take the steps necessary to alleviate that risk, such as gritting, then there's every chance they were in fact guilty of negligence.
Slips at private property
When it comes to private property, people may think the methods they use to clear paths of snow and ice are correct. However, the way in which snow and ice has been cleared may leave property owners liable for injuries if the job has been carried out incorrectly. The government has a set of guidelines for clearing snow and ice for land owners, including:
Do it early in the day
Don't use water, which will refreeze
Use salt if you can, this will stop the ice and snow refreezing overnight
While it may be difficult to prove whether or not a land owner has followed these steps, if you are injured in a slip on snow or ice on private property, you may still be entitled to compensation.
Making a claim after slipping on snow or ice
It has to be remembered that a fall of this kind can be a serious matter, especially for older people. Landing badly on frozen ground could lead to severe bruising, whiplash or even broken bones, and is almost bound to incur a degree of pain, inconvenience and expense. All of these factors will be built into a compensation claim and a reputable personal injury lawyer, working on a no win no fee basis, will only take the case on if they feel they have a genuine chance of winning.