Student Nurse Recognition Award 2019

With NHS bursaries now a thing of the past, funding for nursing students is at an all-time low. Despite being responsible for the healthcare of most of the UK, nurses receive very little support in return. As a result, numbers of nurses entering higher education are dropping at an alarming rate. At Claims.co.uk, we wanted to help with our Student Nurse Recognition Award.
We produced the award to find the most exceptional student nurses in the UK, to reward them with funding towards their studies. We had some incredible entries from student nurses across the UK, and heard the remarkable stories of their daily lives that they juggle whilst pursuing a career in nursing. And we've now chosen a winner…
Dellanie Nash – Canterbury Christchurch University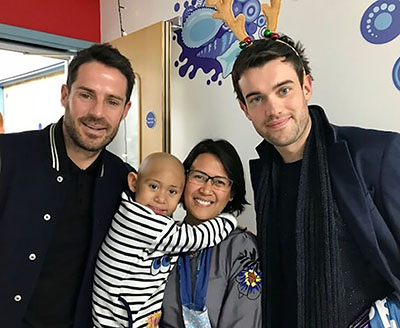 When Dellanie was just 6 months into her Adult Nursing course at Canterbury Christ Church University, her 3 year old daughter (now 6) was taken to hospital with a high fever – which came to be diagnosed as high-risk stage 4 Metastatic Neuroblastoma in her left adrenal gland.
"Finding yourself on a children's cancer ward is every parent's nightmare. Neuroblastoma is only rare until it happens to you. Maya's cancer made me learn how every patient hangs onto the tiny little "insignificant" (to healthcare professionals!) words and analyse everything.
Therefore, by sharing Maya's story, I advocate that student nurses develop a mindful language, enhance their sensory ability, and heighten their self-awareness that culture is not just about the language people speak –it's about the way they live, think and relate to each other. In the midst of the darkness, I myself experienced compassion, humanity and kindness."
Whilst in and out of hospitals, including a trip to a specialist in the US, the 43 year-old mother of five works as a Quality Outcomes Framework Coordinator at a local surgery working in chronic disease management and enhanced services on top of her studies.
"I accomplished 2,300 hours of nursing training at the hospitals and community placements within the Maidstone & Tunbridge Wells Trust and East Kent Trust. These, on top of three years' worth of sleepless nights spent on writing those essays/dissertation, presentations and revising for exams, whilst caring for my poorly daughter at the hospital. The majority of my coursework was written whilst my daughter was an in-patient at three different hospitals in the UK, and at the Memorial Sloan Kettering Cancer Center in New York!"
Claire Carmichael – Birmingham City University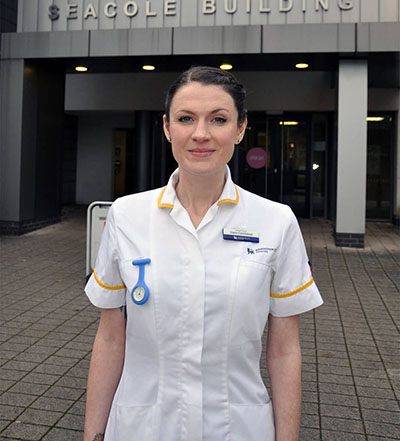 Glasgow-born Claire was inspired to follow a career in nursing after watching both of her grandparents deteriorate from cancer. She travelled all over the UK in her childhood, eventually settling Outside of her study time at Birmingham City, Claire works as a healthcare assistant in sexual health and contraception services across Birmingham – and even managed to co-found Project GIVE Wolverhampton, which aims to eradicate period poverty in schools.
"The main reward for me is seeing the messages from other student nurses telling me I have motivated, inspired and helped them so much. It makes my day! I go above and beyond my regular student nurse duties to help others, not for any money or awards but because of the genuine fuzzy feeling it gives me to do so."
Amy Hughes – Bangor University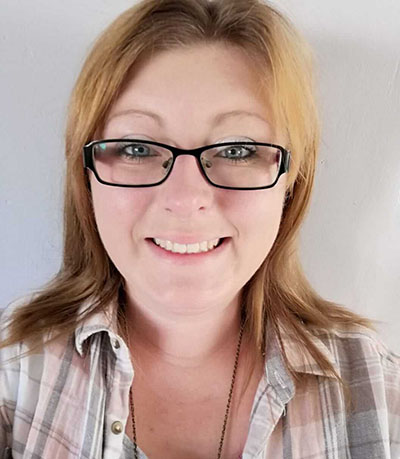 Amy studies Adult Nursing at Bangor. A single mother of two, Amy began her career as a secretary in a community care company, before becoming aware of the huge benefits to being a healthcare professional, and moved her focus towards a career in nursing.
Outside of her studies, Amy regularly partakes in fundraising events for local charities, and says that she would like to win SNRA to show her children that it's never too late for a career change. Amy said:
"I would love to win the Student Nurse Recognition Award to prove to my children that no matter what age you are and no matter where you come from, it is never too late to follow your dreams. I feel overwhelmed! It is truly an honour to be considered and recognized for my efforts, all of which would not have been possible without my family, friends and support network within my university."
James Perry – University of South Wales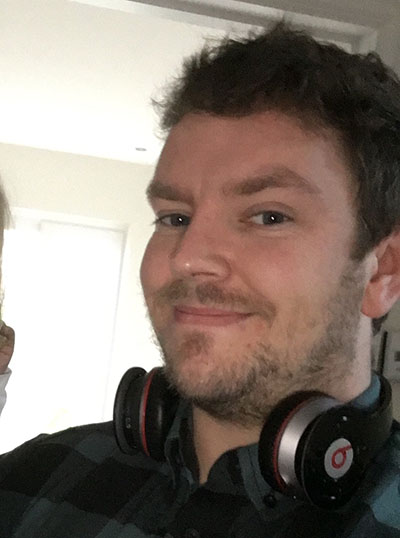 James currently studies at the University of South Wales, having previously attended to gain a degree in sports science. James has hopes to one day become a Paediatric Theatre Nurse one day when he completes his studie – which he juggles with looking after his two childre, working as a healthcare support worker and a personal trainer. He felt compelled to pursue a career in nursing after witnessing the remarkable care that healthcare professionals had provided whilst his son was being born:
"The traumatic birth of my first son gave me an insight to the magic nurses are able to give to others in the form of their care. I thought I could give a lot."
Ellie Evans – Staffordshire University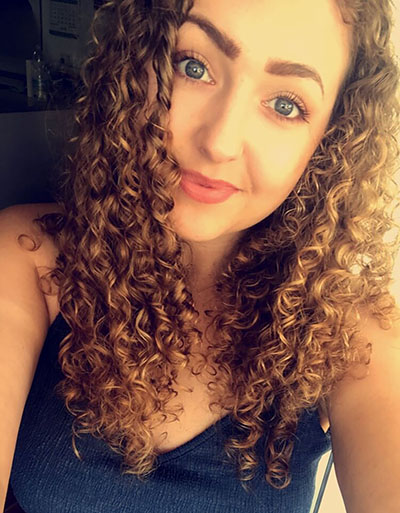 Ellie stayed local to her hometown of Stafford when she made the decision to study Adult Nursing at Staffordshire University, where she could be close to her family whom many have careers in healthcare.
She says she has always looked upon the nursing profession with a tremendous amount of respect, and relished the opportunity to develop the skills and knowledge to support people and their families during such an exciting and in some cases very traumatic time. One day, Ellie hopes to work either in A&E or in palliative care for 12 months before applying to do the midwifery shortened course and continuing her studies to become a midwife.
Ellie said: "It would be a very proud moment for me if I won this award. Although my charity work has not been for an award status it would be lovely to be recognised for such a positive thing. I am not often in the spotlight but since starting at Staffordshire University my confidence has grown with the support of my peers and university staff and it is an extremely rewarding feeling to even be considered for the award!"
Hollie Lawrence – Anglia Ruskin University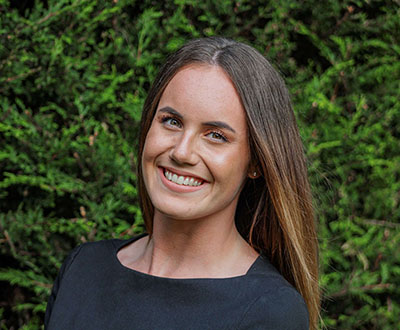 Hollie chose to study at Anglia Ruskin due to it being close to her family home in Clacton-On-Sea, but has known from a young age that she wanted to become a nurse. At the age of 16, Hollie volunteered at an elderly care home, before moving on to volunteer for St John's Ambulance teaching Save a Life September in secondary schools.
"My hopes for my career moving forward is to qualify as a nurse work in an acute hospital close to where I live. I am also passionate about supporting students and health professionals, particularly in the area of trauma. I have set up a business concept that I am hoping will run alongside my work as a nurse in the future!"
Hollie entered a competition at Staffordshire University with a business idea that focused on supporting student nurses and professionals – and won the competition and two other awards. One for Allia's Serious Impact Award 2019 and the other was the Simboc mentoring prize, with an idea that idea focuses on reducing staff and student burnout, attrition and suicide rates.
Jessica Norfolk – Huddersfield University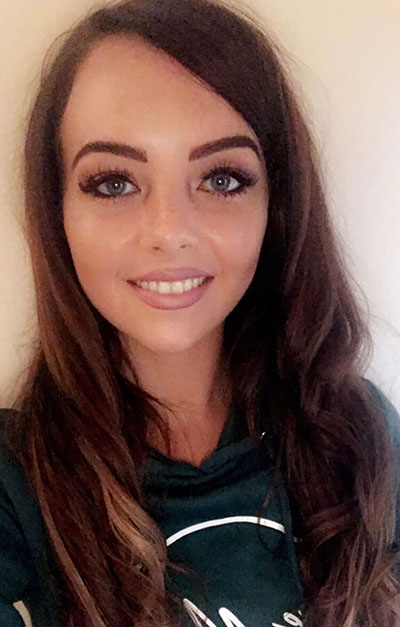 Jessica studies Adult Nursing at Huddersfield University, and hopes to one day become an Advanced Clinical Practitioner. Throughout the week whilst she's not on placement for her course, she works part-time to ensure she has money for petrol. Jessica credits her late father for being the main reason she pursued nursing, encouraging her at times when things got really tough. Jessica said:
"When I lost my grandfather and became a full time carer for my grandmother I realised my love for looking after people and trying to improve someone's life. I found my passion through my grandmother and gained the confidence to pursue it because of my dad."
Robin Jackson – Oxford Brookes University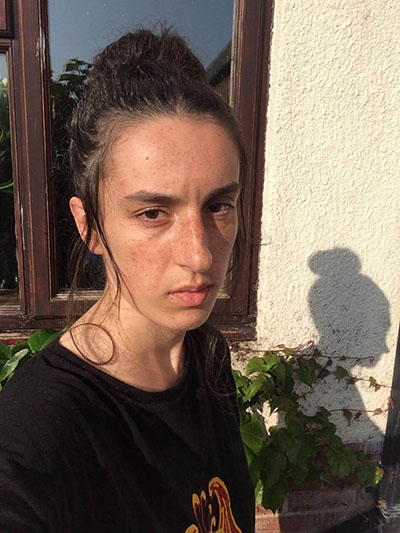 When Robin isn't at Oxford Brookes studying for her degree in Mental Health Nursing, she picks up bank shifts on the Child and Adolescent mental health inpatient unit and works odd days cleaning local holiday cottages. Robin said:
"I've always liked helping people and using my experiences to make things better for other people. Nursing wasn't something I considered at school, being anxious and autistic. I actually went to university to study Biochemistry originally.
I went through my own mental health problems while at uni and I was the support system for a lot of my friends. That was when it clicked that I didn't want to be working in a laboratory, I wanted to be working with people!"
Terms & Conditions
Eligibility
Entrants must be aged 18 and over.
Proof of enrolment in a nursing qualification at a university or college must be shown before any prize monies will be granted to the winner.
This competition is NOT open to employees of Claims.co.uk, their families or anyone else associated with this competition. The Marketing Director's decision as to the eligibility of non-Claims.co.uk parties will be final.
Entry process
Only one entry per person is permitted.
Offensive, incomplete, incomprehensible or incorrectly completed entries will not be counted.
Claims.co.uk do not accept responsibility for entries that are lost or delayed, or which are not received for any reason.
All entries will be given careful consideration and must be written in English.
Winners' selection
A shortlist will be published in advance of the announcement of the winner.
Shortlisted candidates will be notified directly by email. Shortlisted candidates may also be contacted for promotional purposes by our marketing agency, atom42, for the competition on the email address provided in the entry form. Neither email or phone number will be used for purposes other than the competition, and all entrant's data will be removed from our system at the close of the competition. You can find out more about our privacy policy here.
By entering the competition, you grant to Claims.co.uk, its agents, and others working under its authority, full and free use of any information regarding your nomination during the competition process. You agree that we may publish and share your name, age, location, your submitted nomination, details of your nomination and information related to your entry. You will retain ownership of copyright in your entry but you give Claims.co.uk (and any third party authorised by Claims.co.uk) your irrevocable permission to use, reproduce, publish, display, transmit, copy, amend, store and sub-licence your entry worldwide for such promotional purposes and for the purposes of the competition.
Entrants agree to take part in promotional activity if entry is shortlisted and agree that images or quotations may be used for news, research and/or educational purposes in any medium including but not limited to printed publications, displays, on television or on the Claims.co.uk website intranet or social media properties.
Prize & Delivery
The winning entry will be published on this page, at www.claims.co.uk/student-nurse-recognition-award
We award cash prizes in the form of a bank transfer to the prize-winner's personal account.
The prizes are not transferable and non-exchangeable.
Rights
Claims.co.uk reserves the right to make changes to the rules of the competition at any given time. In the event that we do amend the rules, we will publish them and it is the sole duty of any entrant to keep themselves up to date with any changes.
Claims.co.uk reserves the right to end this promotion at any time, and without notice.
If there is any disagreement over the rules, conduct or decision made by Claims.co.uk, we want to make it clear that our decision is final. We will not enter any discussion with entrants who disagree with the rules or the winner chosen by Claims.co.uk.
By entering this competition, you agree that you will be legally bound by these terms and conditions. These Terms & Conditions shall be construed in accordance with and governed by the laws of England and Wales.