Engineering for Access 2020 shortlist: Beth Cutting
Suprapubic Continent Self-Catheterising Port- 2SC
This invention allows people who have bladder dysfunction to comfortably intermittently drain their bladder rather than have an indwelling continuous urinary catheter or catheterise up their own urethra (water pipe). It would hugely increase the number of people that could intermittently self-catheterise to drain urine from their bladder therefore reducing the risk of urinary infections associated with a continuous drainage urinary catheter. Being easily changed, it would also allow safe, simple and frequent changes to prevent biofilm build up and the risk of antibiotic resistant bacteria associated with indwelling urinary catheters. It would also be discreet and therefore cosmetically more pleasing than having a permanent suprapubic or urethral catheter.
This product is designed to potentially help anyone who has a long term indwelling urinary catheter or intermittently self- catheterises (it is estimated over 90,000 people in the UK alone are long term urinary catheter users). It could also be used by those who have carers doing intermittent urethral catheterisation for them, as it would be less painful and less embarrassing.
I have chosen to help people with bladder dysfunction, as it is an extremely common but rather hidden, taboo, and neglected disability. Urinary catheters are also associated with a lot of problems including urine infections, sepsis and pain, so an alternative solution would make a huge difference.
I was inspired to design this as my father is a urologist and frequently has to assist people having problems with urinary catheters. He also pointed out that the design of urinary catheters has been very similar for more than half a century, while other medical technologies have massively progressed. This idea seemed to be a way to overcome many of the problems associated with conventional catheters.
The 2SC works by acting as a discrete access tube to the bladder from the suprapubic skin area. It is a non-leaking tube, due to the valves and cap, which would allow painless insertion of an intermittent catheter into the bladder to drain urine. This enables more frequent drainage of the bladder, decreasing the risk of urine infections due to stagnant residual urine, and reduces the risks associated with bacterial build up on permanent indwelling catheters. It could also reduce bladder stone formation and the risk of kidney damage from back pressure.
The tube is held in place by a circular balloon on the inside of the bladder and soft circular gel on the skin surface. The inside of the tube would have a simple plastic valve mechanism to prevent urine flowing out from the bladder but would allow an intermittent catheter to easily be inserted down it. There would also be a simple cap on the outer skin side of the tube, with a large enough tab to enable those with a weakened grip or motor dysfunction to remove and replace it.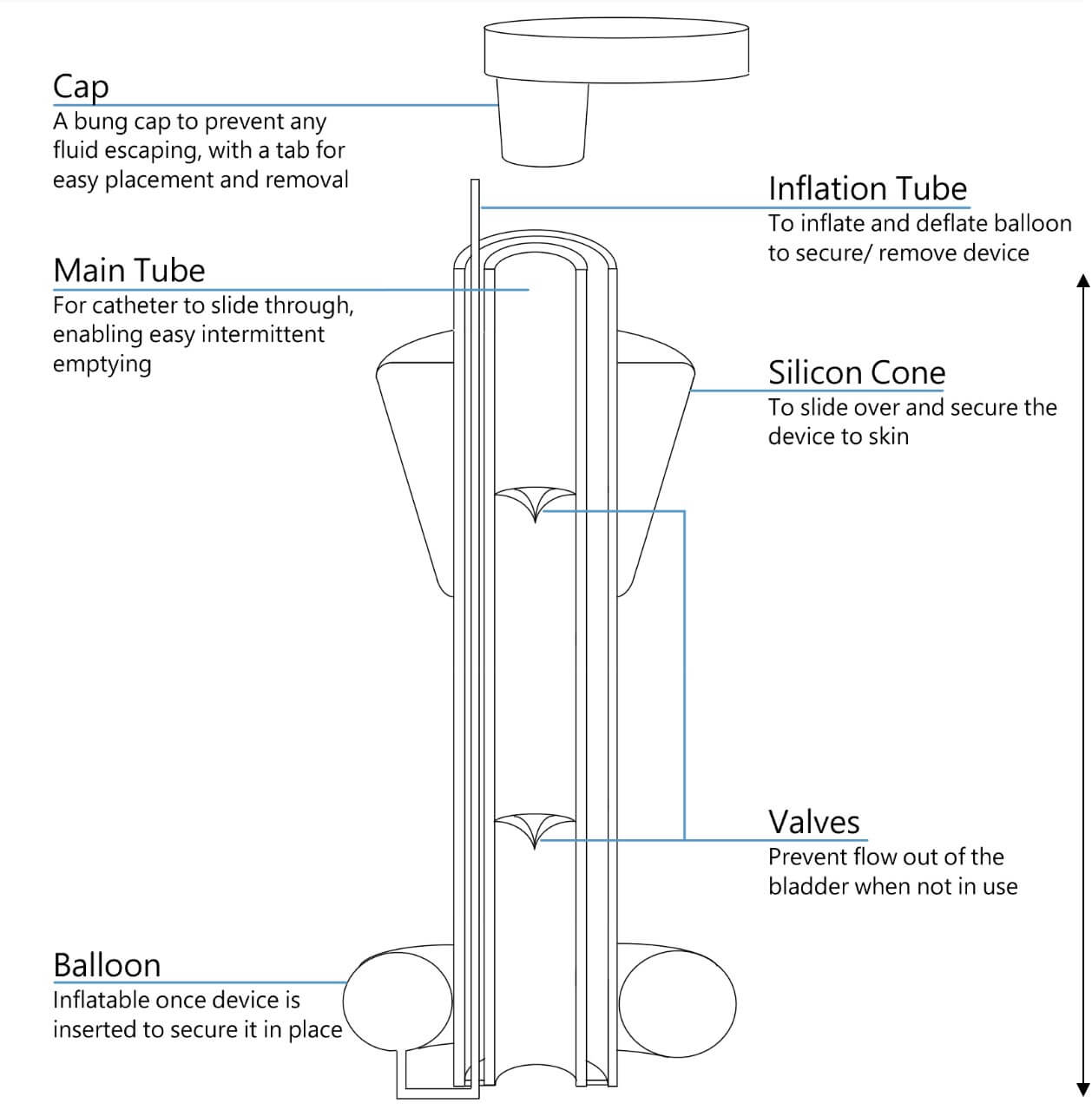 The device while in place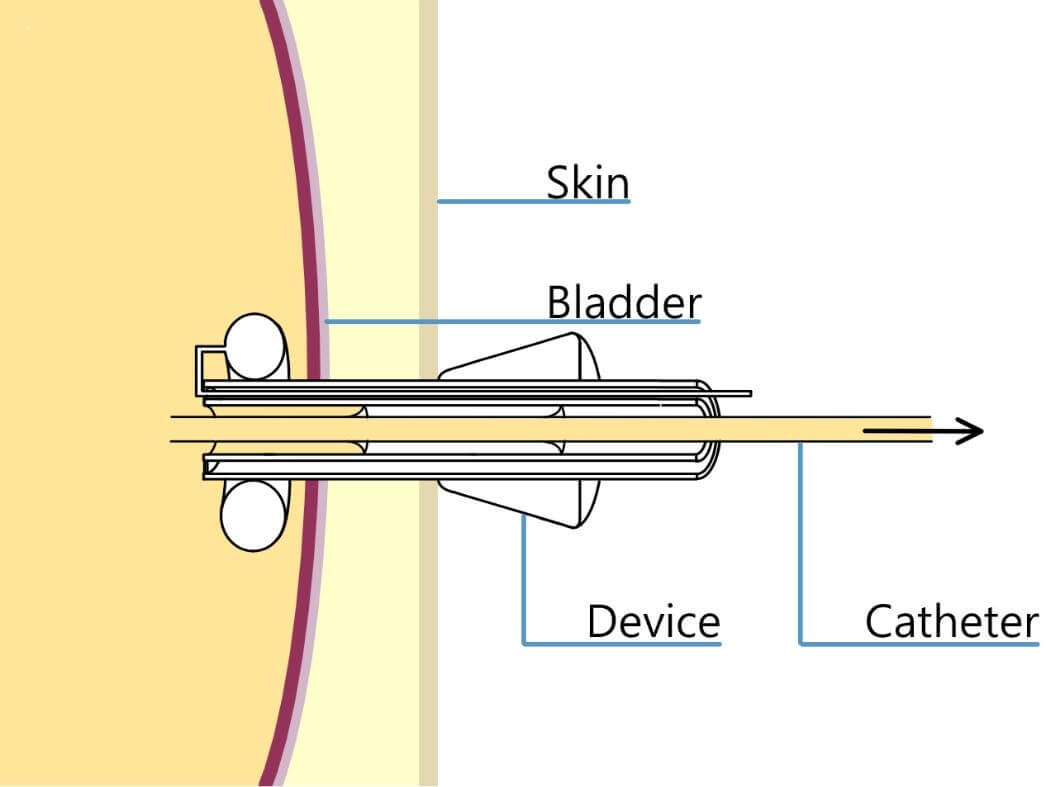 The device while in use with a catheter to drain urine from the bladder
This design is unique compared to others on the market, as at present, patients with bladder dysfunction either have a long term indwelling urethral catheter or indwelling suprapubic catheter attached to a urine drainage bag, both of which can be painful, uncomfortable and may cause embarrassment. The catheters are usually changed every 10 weeks which can be very uncomfortable. These indwelling catheters always end up covered in bacteria, hidden in a biofilm, which prevents antibiotics killing the bacteria. These bacteria can cause significant urine infections and even potentially extremely serious sepsis.
For some people they can have a valve on the end of the catheter, rather than a bag, which they open intermittently to drain the urine from their bladder, but the valves are often fiddly and need significant dexterity and the long term catheters still become coated in bacteria within about 7 days. The changing of suprapubic catheters can be rather precarious, as the tract connecting the skin to the bladder closes very rapidly, and if the catheter is not replaced immediately the route closes up, making it impossible to drain the bladder. This means they are often left in for much longer than the 7 days it takes for the bacteria build up.
Some patients with bladder dysfunction may intermittently self-catheterise or have carer catheterisation. This means an insertion of a catheter tube up the urethra between 2 to 6 times a day. This is often uncomfortable for men and can be extremely challenging for women. With intermittent self-catheterisation there is less of a risk of urine infection from a bacterial coated indwelling catheter, but infection can be introduced at the time of catheterisation. Considerable dexterity and determination is required for such self-catheterisation, meaning it is not a viable option for all.
The 2SC allows a discrete, painless way for patients to intermittently drain their bladder. It provides the advantages of intermittent self-catheterisation such as decreased risk of infection as there is no permanent catheter but with the advantage of not having to catheterise up the urethra. It can also be changed simply and frequently by inserting a catheter, deflating the balloon to remove the 2SC, then sliding the new 2SC into place over the catheter, ensuring the route into the bladder is not lost. With simple frequent changes every 5-7 days, it will prevent the build-up of bacteria and biofilm associated with long term indwelling urinary catheters.
The cost of getting a prototype made should be less than £3000, taking into account the potential need for specialist bespoke equipment.