Engineering for Access 2020 shortlist: Gregory Travis
BET for BTE
What my invention does: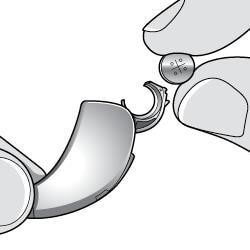 The Battery Extraction Tool for Behind The Ear hearing aids is a product designed to improve ease of battery change in hearing aids for people with limited dexterity. Behind the ear hearing aids are the most common type of hearing aids. My product is essentially a case for the hearing aids, with an integral removable tool for swapping the batteries, the case also provides storage for four batteries and space for a cleaning tool. The tool for swapping the batteries comes in two halves and when you connect them together it activates a switch which turns on an LED, to illuminate the hearing aids when the user is swapping the batteries, as they may be in a dimly lit environment
such as a restaurant or cinema when they need to swap the batteries, or have reduced eye sight. All this is housed within a case that can comfortably fit inside your pocket.
Who my product is designed to help:
There are 8.75 million people in the UK alone who have osteoarthritis, on average, developing this over the age of 45, at a similar age to when people start to lose their hearing (40% of people over 50 in the UK have some form of hearing loss). There are approximately 11 million people suffering from hearing loss in the UK and roughly 2 million currently using hearing aids in the UK. Osteoarthritis is a deteriorating condition, therefore by the time people are 65 and most likely to need hearing aids, they have very limited dexterity, making swapping hearing aid batteries a strenuous task. Parkinson's disease also affects elderly people; 1 in 500 people have Parkinson's disease with symptoms usually developing at the age of 50 or over, one symptom is involuntary shaking, making swapping hearing aid batteries a challenging task. My product is aimed at both groups. The product can also be used to swap the batteries in other devices that use button batteries, such as thermometers and calculators.
Why I've chosen to design a product to help people with this disability:
I decided to solve this issue because my grandpa suffers from both hearing loss and osteoarthritis and always complains about how hard and frustrating it is to change the batteries in his hearing aid. Often resulting in him dropping the battery on the floor and struggling to find it again. I know that there must be many people like him who suffer from the same problem, so I thought I would come up with a solution as there did not appear to be any suitable products on the market. I got feedback from my Grandpa at every stage of the product development, to ensure that it solves the problem in the best way possible.