Engineering for Access 2020 shortlist: Kai Taylor
What my invention does:
My invention is to give people in wheelchairs a method of communicating with public transport, with a particular focus on the bus system. If a disabled person lives in a location where buses are infrequent, it is important to ensure that there are spaces available. To assist with this, my idea is to create an attachment for wheelchairs that offer a simple mode of communication to upcoming buses. This attachment fits to the arm of the wheelchair and will allow the user to scan a QR code when at a bus stop. In turn this will alert the bus driver that there is a disabled person waiting at a stop. From this, the bus driver can give the user confidence that there will be a space when it arrives, as well as allowing the driver to prepare the bus if necessary. If there are no spaces available, the user will be alerted, and in turn, this will allow them to arrange an alternative transport if appropriate.
Who does it help:
This is designed to help people that use a wheelchair and rely on public transport to get them from A to B. Future development of this could also mean the product could be adapted to work for people with limited sight, hand movements etc.
Why I chose to design a product to help with this disability:
There are around 1.2 million wheelchair users in the U.K; with such a large number of users, I feel it is important to have a good infrastructure in place to allow these people to have a normal and accessible life.
Inspiration:
My personal tutor was approached by a charity that had dealt with many cases where wheelchair users were unable to get on the bus because the disabled area was taken. After hearing this I was surprised to hear that this kind of problem existed, and nothing had already been implemented.
How it works:
The prototype will work with the use of an Arduino, which will control the bar code scanner (with an activation button), the display and the communication system. All of these will be packaged in a small unit that will be easy to install and use. The system will be powered off its own rechargeable battery or run off the wheelchairs power.
To demonstrate how this would work, a mock replica could be created to allow transport companies to see how it would integrate with their systems; this may include creating a mock communication centre and a bus. All of which could be created through the use of an Arduino.
Simple flowchart to show the process of the system: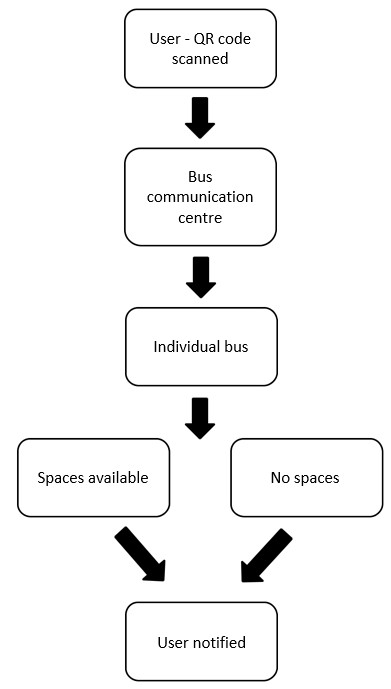 Wiring diagram of the system (wheelchair side only)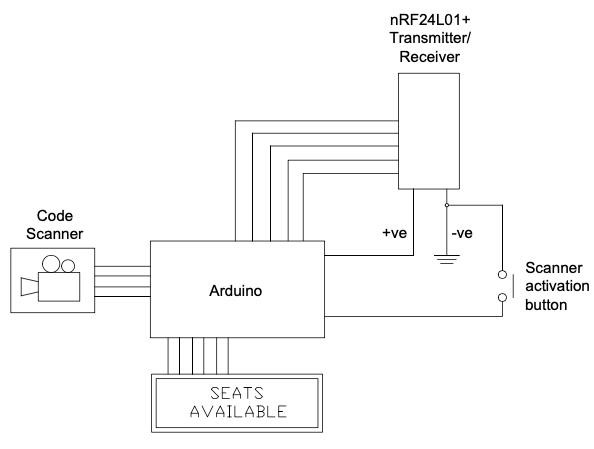 Initial 3d model of device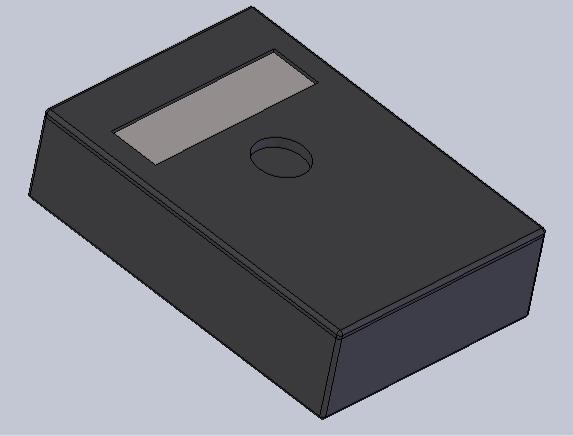 For future development, the data from this system could be analysed by the transport companies to get real data on how many wheelchair users catch the bus (and at what time/ bus stop). From this, the transport company could use this information to add buses with more wheelchair capacity to the more popular routes.
Why it's different:
This unique system will allow real time information in order for the customers to know whether a seat is available. There are similar approaches within public transport, ie trains and aeroplanes. However, these approaches all involve online bookings and the customer to have computer access.
Estimated cost:
All costings are an approximation and will vary. If this enters production, costs can be greatly reduced by using chip for this specific job instead of a microcontroller.
Arduino UNO: £20
nRF24L01 Transmitter/ Receiver: £2
Code scanner: £15
LCD Display: £3
3D printed housing: £4
Wire: £2