Starting a Surgery Error Claim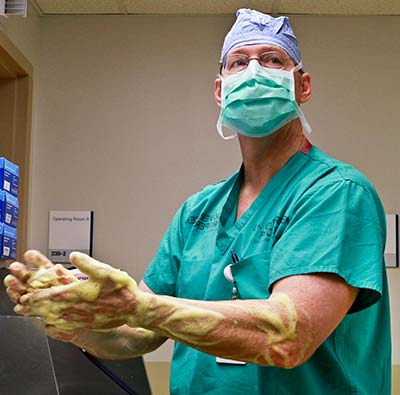 Going into hospital to have an operation is something which creates a great deal of stress in the average person. This is perfectly natural, since even the most routine operation carries with it a degree of risk, but in the majority of cases the treatment you'll receive, both during the operation and when recovering, is of the highest possible standard. As recent very high profile cases have demonstrated, however, things can go wrong within hospitals and if you've been injured as a result of these mistakes then you can consider yourself the victim of negligence.
Cases of surgical errors are amongst those which cause the most distress, since agreeing to have an operation involves a huge amount of trust and the sense that this trust has been betrayed can cause psychological pain to augment any physical suffering.
Complexity of surgical error cases
Surgical error cases are amongst the most complex and difficult to pursue, since they involve demonstrating that a qualified medical practitioner has behaved in a manner which dropped below the standards which a reasonable person might expect. The arguments in such a case will be highly technical in manner and may revolve around the biological and medical minutiae of a complex surgical procedure, and so it's vital that you have a personal injury lawyer working to put forward your side of the case.
DID YOU KNOW: In the year 1st April 2016 to 31st March 2017, there were 114 incidents in England of objects being left inside patients following surgery.
Length of time to settle a claim
Cases of this kind can take years to even reach court, and this, combined with the prospect of taking on the NHS or a private clinic can often put people off. Surgical error cases can take a long time to settle as vast amounts of evidence will be available for both sets of lawyers, and expert testimony from medical professionals may be required to make a strong case.
A surgical error can have a drastic effect on your life, however, perhaps keeping you off work long term whilst also having a detrimental effect upon your social life and psychological well-being.
DID YOU KNOW: One million patients use NHS services every 36 hours.
Determining if medical negligence has occurred
The test which was commonly used in order for a court to decide whether a medical practitioner had been negligent was called the Bolam Test, and was based on the concept of a standard of treatment that might reasonably be expected of a professional working in the particular field of medicine. If the treatment in question fell below this standard, then it was adjudged to have been negligent. In recent years, however, the growth of transparency within health treatments in general, and in the empowerment of patients through organisations such as the Patients Association has led to a greater demand for information. This has meant the working definition of medical negligence broadening to include those cases in which a practitioner failed to provide a patient with the range of information needed to offer fully informed consent. If you feel, for example, that you gave permission for a course of treatment without being warned of all of the risks, and that one of these risks subsequently caused you an injury or illness, then you may well have been the victim of negligence.
The principles lying behind any compensation claim remain the same whether the surgery was carried out in an NHS hospital or a private clinic. Some differences, however, include the fact that the NHS has its own litigation organisation (NHS Litigation Authority (NHSLA)) which deals with any claims made against it, and also that all parts of the service are covered by a written constitution covering patients' rights to have their complaints dealt with efficiently and to be informed of the outcome of any investigation. The constitution also outlines the fact that patients who have been treated negligently have the right to receive compensation.
Bearing mind how large the NHS is (it currently employs more than 1.6 million people), it's not really a surprise that mistakes are sometimes made. Although the number of claims made is relatively small – only 0.005% of cases as a whole – each case represents an ordeal for the individual concerned, particularly when it involves something as potentially serious as a surgical error. The amount of compensation paid out by the NHSLA serves to underline the complexity of such cases and the seriousness of the injuries sustained: in 2016/17, a total of £1.6bn was paid out to injured parties, with £500m of this being spent on claimants' legal costs.
The most common types of surgical errors
Amongst the types of error which most commonly take place during injury, and for which compensation claims can be made are the following:
The wrong operation being performed
The wrong body part being operated on
Foreign objects left in the body
Organs being perforated
Cosmetic surgery causing scarring and disfigurement
Infection caused by poor hygiene
DID YOU KNOW: Surgery was carried out on the wrong part of the body 189 times in England in the year between 1st April 2016 and 31st March 2017.
Making a claim for surgical mistake compensation
A successful claim in a case such as this will involve demonstrating that the treatment you received was negligent, and that this negligence then caused an injury to your person. If you feel that this may have been the case, then call us on 0800 234 6438 and we'll listen to the details of what happened to you and decide whether it's worthwhile pursuing no win no fee compensation. In most cases of medical negligence there is a three year time period during which a claim needs to be started.
In cases of surgical negligence, however, this three year period may start upon the date the injury becoming apparent, even if this is some time after the actual surgery itself. It is this type of complication which makes it imperative to employ expert help to guide you through the process and ensure that you receive the compensation which will make up, in some small way, for the manner in which you've been let down.
Although the NHSLA attempts to deal with the bulk of cases within 12 months, many claims for surgical error can be long and complex, particularly if the surgeon in question denies negligence or disputes the degree of injury which any negligence might have caused. The good news is that, if negligence is admitted but the degree of injury – and thus compensation – disputed, then the claimant may receive an interim payment to help tide them over whilst the case makes its' way through the courts.
DID YOU KNOW: The three year time limit for claims of medical negligence from the date when the negligence occurred, or from the date when the victim becomes aware negligence took place.
How much surgical negligence compensation
The amount of compensation awarded in the event of a successful surgical error claim will depend upon the details of your case, and any solicitor who begins the process guaranteeing a specific amount should be avoided. In simple terms, personal injury compensation is made up of two distinct segments:
General damages
This amount is calculated on the basis of the nature and severity of the injury you've received. The court will use a book published by the judiciary, known as the Judicial College Guidelines: The Assessment of General Damages in Personal Injury Cases, now in its' 14th edition. This book lists specific injuries to parts of the body and the amount recommended for each, altered to take into account your previous health, age and the chances of any recovery.
Special damages
The rest of any compensation award will be made up of a sum intended to make sure that the circumstances of your injury don't result in financial as well as physical and mental hardship. This will cover any loss of earning capacity brought about by your injury – now and in the future – as well as expenses such as medical bills and perhaps specialist care which wouldn't have been required if it weren't for the negligence you've suffered.
DID YOU KNOW: You can claim on behalf of a loved one if they are under the age of 18, or if the negligence proves fatal/leaves them unable to claim on their own.