Share your Peaceful Moment with us and win £1,000
Escaping the everyday stresses of life can sometimes be tough, and not doing so can take a toll on our mental wellbeing. There's no denying that we all need some time to ourselves to recover.
We asked people across the UK to share their Peaceful Moments with us, to be in with a chance to win £1,000. We asked for a photo of their favourite place to go when they need some time to themselves, and to explain what makes that place so special to them.
Congratulations to our Peaceful Moments winner, Claire Nutman!
Claire entered Peaceful Moments with a stunning photo of her and her son at Durdle Door in Dorset, which has a particularly special meaning to her after she suffered a severe blood clot on the evening that the photo was taken.
This was Claire's heartwarming initial entry: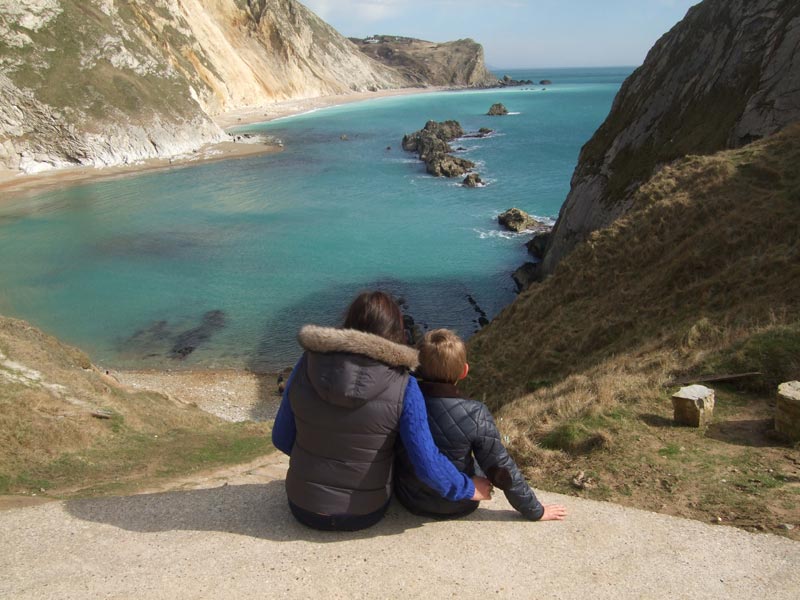 "My children have spent many Sundays, both in summer and winter at this wonderful part of the Jurassic Coast. This picture means so much, as my son and I were having a quality moment, which was captured, that evening I suffered a serious clot, which I survived. So it truly does have a special meaning to me!"
More about Claire's story
Claire woke up in unbearable pain and coughing up blood. The mother of three was taken to hospital where she was told that she had suffered a near-fatal Pulmonary Embolism. She remained for 4 days, and even after being discharged, the clot left Claire house bound for 3 months; during this time she was visited by ward nurses several times a day.
Even after recovering from the initial blood clot, Claire was unable to work and left destitute – she had to give up her tough but rewarding role as a manager at a homeless drop in centre.
Despite suffering the life changing incident on the day that her entry photograph was taken, Claire regards the moment she shared with her son as a symbol of the fact that she survived the ordeal.
"I'm still now, three years on out of work, I haven't had a career. I had another lung clot about 6 weeks ago, but not as serious. On the evening after my photo, I was fit and well and healthy in my life. I had a great job. I'm still not well now.
"I have that photo blown up, outside my son's room and every time I see it for me it's a positive photo because I survived. It means a lot to me."
Congratulations to Claire from everyone at Claims.co.uk! Scroll down to see more inspiring Peaceful Moments from our shortlist
Leon Slater: Southsea, Portsmouth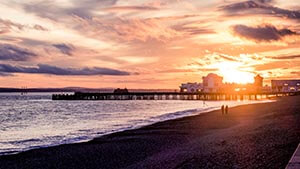 "My partner and I moved to Southsea in early 2016 to escape our increasingly stressful lives in London, and to be closer to some of our family. Although there were still aspects of London life we both enjoyed, the city's charms had worn away for us. Along with my anxiety continuing to worsen, we knew that London wasn't the place for us anymore.
"Since leaving London our lives have become so much better and more peaceful. Southsea Beach is a stone's thrown away from where we now live, and it's become a symbol of why we moved, and a calm constant in our lives, without which I never would have been able to tackle my anxiety."
Sarah Fielding: Greenfields, Manchester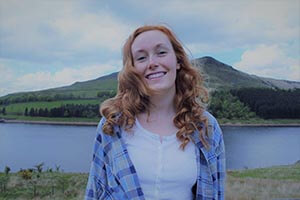 "When I am struggling with my mental health, the great outdoors gives me a sense of wonder and purpose and instantly makes me feel better. Greenfield is a place that I have spent a lot of time since being very young, it is where I learnt how to ride a bike, created wonderful memories with the people I love and practiced photography whilst capturing the beauty of the wildlife that resides there.
"When I walk through the trees, I am taken from a place where I feel down and full of darkness and transported to a much happier place full of sunshine and wonder."
Lynsey Harvey: Altnagelvin Area Hospital, Londonderry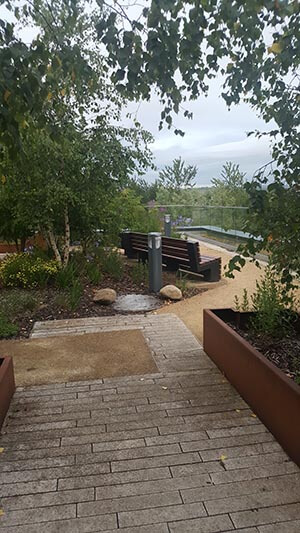 "This place is very special to me as I spend so much time here sitting on the bench looking out over my beautiful city of Londonderry. I spend time here with my mum who has terminal cancer (lymphoma).
"She has been in the cancer ward for almost 20 weeks now, when she is well enough I take her out to the wards garden and we sit on the bench and just enjoy the time we have together. It's so peaceful and I treasure every moment we have here."
Liz Denial: Her back garden in Stapleford, Nottingham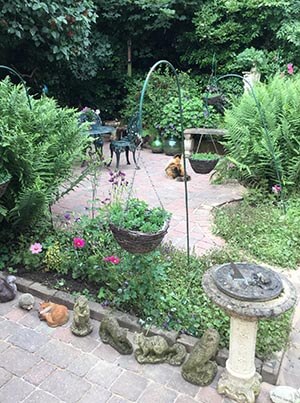 "As I'm disabled & housebound I look on my garden as an extension of my living space, I regard it as Mother Nature's Living Room. I am lucky enough to have a vast variety of birds & wildlife visiting each day & night including a large family of badgers, several hedgehogs, foxes & families of pheasants and many species of birds including several on the RSPB red list.
"Looking out of my window is like watching my own version of Springwatch & Autumnwatch. Being stuck in my house all day & night is very boring but my beautiful garden & all the wonderful wildlife gets me through the day & when I can't sleep at night because of the pain I got out to chat to my hedgehogs & badgers while they're feeding as they all trust me as they've been visiting for so many years."
Judy Nathan: Groudle Glen, Isle of Man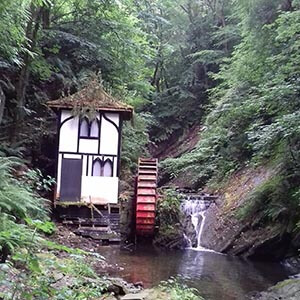 "It's a beautiful Glen near to where I live, it's my place to switch off after a very stressful year where my husband nearly lost his life. I enjoy the beauty and peace and quiet with only the tranquil sound running water to keep me company."
Cara Mooney: Berry Head, Brixham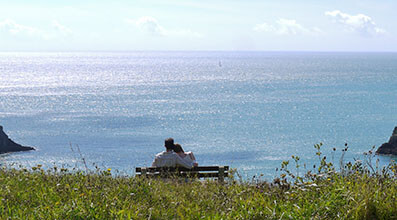 "Having spent many childhood years holidaying here with my Dad showing me the cliffs he used to explore when he was a child, I introduced my partner to the South-West coast for our first holiday away together.
"This peaceful moment was preparing us for the fact that just a couple of days after returning home from this holiday we would have to spend 12 months living over 200 miles apart. I sat in this spot and felt comforted and hopeful that this would only make our (fairly new) relationship even stronger. 7 years on and we are now preparing for our wedding!"
Haley Renshaw: Farne Islands, Northumberland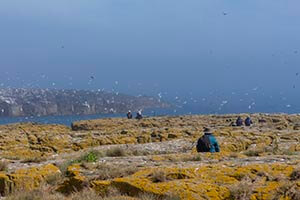 "This is my totally favorite day out of the year, I suffer from depression and bad thoughts, when I'm here I forget everything and just take everything in for them special hours I have.
"Breathtaking, magical place, being absolutely surrounded by wildlife and the beauty of nature and letting us visit their home, I truly love it here and I have to thank my camera club friends for planning around me, they know how much I enjoy my visits."
Judith McInnes: Coniston, Lake District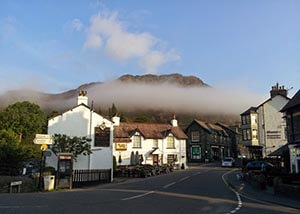 "Out of season, the village is quiet, and beautiful. Just a few minutes walk to Coniston Water, with views of the Old Man of Coniston – a fantastic challenging hike to really get away from it all. This is a place I took my mum after we lost Dad. We had a wonderful holiday, and my husband and I now visit regularly.
"The only important person I didn't visit with, was my Dad, but Mum and I talked about him so much on that holiday, that I now think of him whenever I'm there. She told me things I'd never known before about when they first met, and I have nothing but happy memories, despite the sadness of that first trip."
Alice Gilkes: Fircroft College, Birmingham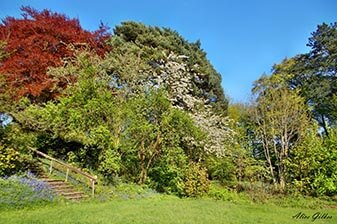 "Believe it or not, this place is actually a college, a residential one in fact. It is a good to place to brush up on your personal development skills as well as many others. The place is very tranquil as everyone there is friendly and easy going.
"Despite being in a city, it is very easy to forget this fact as it is so quiet in the peaceful6 acres of well cared for gardens. The gardens are a good place to wind down and relax and have a good think."
Terms & Conditions
Eligibility
Entrants must be aged 18 and over.
Proof of registration will be required before monies will be released.
Any entrants MUST be the owners of the photograph they have entered into the competition. Any entries that contain photographs taken by anyone other than the entrant themselves will immediately be disqualified from consideration.
All competition entrants must be permanent residents in the UK.
This competition is NOT open to employees of Claims.co.uk, their families or anyone else associated with this competition. The Marketing Director's decision as to the eligibility of non-Claims.co.uk parties will be final.
You may be asked to provide proof of your eligibility at any stage during this competition.
Entry process
Only one entry per person is permitted. Entries on behalf of another person and joint entries will not be accepted.
Offensive, incomplete, incomprehensible or incorrectly completed entries will not be counted.
Claims.co.uk do not accept responsibility for entries that are lost or delayed, or which are not received for any reason.
All entries will be given careful consideration and must be written in English.
Winners' selection
A shortlist will be published in advance of the announcement of the winner.
Shortlisted candidates will be notified directly by email. Shortlisted candidates may also be contacted for promotional purposes by our marketing agency, atom42, for the competition on the telephone number provided in the entry form. Neither email or phone number will be used for purposes other than the competition, and all entrant's data will be removed from our system at the close of the competition. You can find out more about our privacy policy here.
We reserve the right to request proof of award winners' identity in the form of a passport or driving licence and proof of address in the form of a utility bill dated within the previous 12 months. If the award winner is unable to supply proof of identity in an acceptable format, we may withdraw the prize and select another winner.
By entering the competition, you grant to Claims.co.uk, its agents, and others working under its authority, full and free use of any images of you taken during the competition process. You agree that we may publish and share your name, age, location, your submitted entry, details of your prize and information related to your entry. You will retain ownership of copyright in your entry but you give Claims.co.uk (and any third party authorised by Claims.co.uk) your irrevocable permission to use, reproduce, publish, display, transmit, copy, amend, store and sub-licence your entry worldwide for such promotional purposes and for the purposes of the competition.
Entrants agree to take part in promotional activity if entry is shortlisted and agree that images or quotations may be used for news, research and/or educational purposes in any medium including but not limited to printed publications, displays, on television or on the Claims.co.uk website intranet or social media properties.
Prize & Delivery
One cash prize of £1,000 is available for the winner chosen by Claims.co.uk.
The winning entry will be published online at www.claims.co.uk/peaceful-moments.
We award cash prizes in the form of a cheque in the name of the prize-winner.
The prizes are not transferable and non-exchangeable.
Rights
Claims.co.uk reserves the right to make changes to the rules of the competition at any given time. In the event that we do amend the rules, we will publish them and it is the sole duty of any entrant to keep themselves up to date with any changes.
Claims.co.uk reserves the right to end this promotion at any time, and without notice.
If there is any disagreement over the rules, conduct or decision made by Claims.co.uk, we want to make it clear that our decision is final. We will not enter any discussion with entrants who disagree with the rules or the winner chosen by Claims.co.uk.
By entering this competition, you agree that you will be legally bound by these terms and conditions. These Terms & Conditions shall be construed in accordance with and governed by the laws of England and Wales.