How Much Could You Claim?
Does your claim qualify? Get free, no obligation advice!
Call free on:
0800 234 6438
Find out how we handle your details in our
privacy policy
.
By submitting this form you agree to be contacted by our partners.
Junior doctors' strike garners public support
Research carried out on behalf of claims.co.uk has shown that twice as many people support the junior doctors' strike than agree with the government's proposed contract changes. Another aspect of the YouGov survey was people's perception of the causes of medical negligence, with overworked doctors being the biggest concern. The results of the survey can be found at the bottom of this page.
John Quail of claims.co.uk commented: "The results from this survey are conclusive; the majority of the British population see the doctors and nurses in the UK as overworked; so much so that they believe it to be the main cause of compensation claims. The decision makers and administrators have to take notice of this, as making claims for medical negligence is not a choice. If medical care is sub-standard, compensation claims will follow as a necessary process to help support them and their families through a difficult period. That is not a luxury; it is an absolute right of every patient and citizen."
British views on striking junior doctors
The infographic illustrates how the people of Great Britain feel about the ongoing strikes by junior doctors: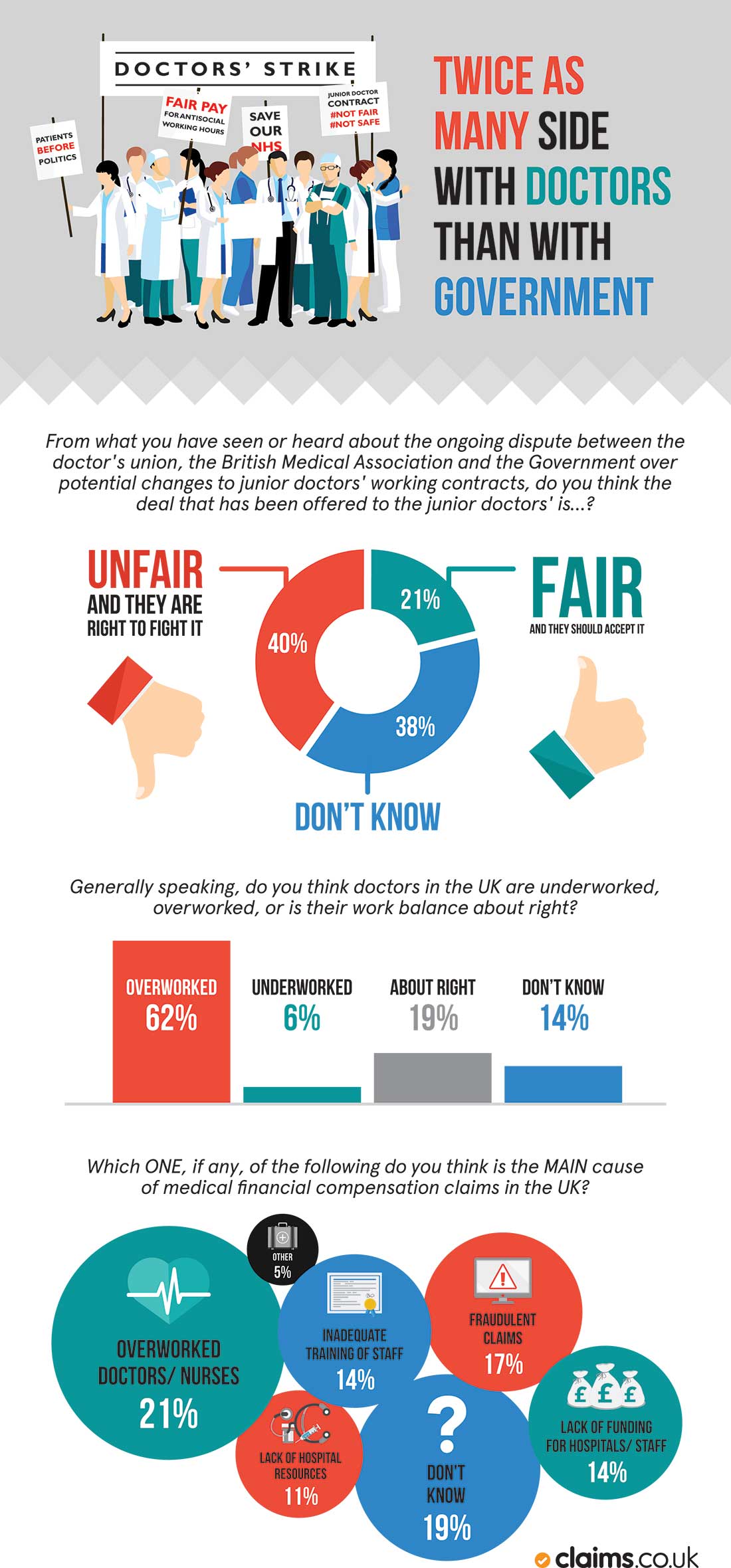 Raw YouGov survey data
The table below shows the raw data taken from the YouGov survey, in response to the question, 'From what you have seen or heard about the ongoing dispute between the doctor's union, the British Medical Association and the Government over potential changes to junior doctors' working contracts, do you think the deal that has been offered to the junior doctors' is…?':
| | Total |
| --- | --- |
| Unweighted base | 2147 |
| Base: All GB adults | 2147 |
| …fair and they should accept it | 21% |
| …unfair and they are right to fight it | 40% |
| Don't know | 38% |
The table below shows the raw data taken from the YouGov survey, in response to the question, 'Generally speaking, do you think doctors in the UK are underworked, overworked, or is their work balance about right?'
| | Total |
| --- | --- |
| Unweighted base | 2147 |
| Base: All GB adults | 2147 |
| Overworked | 62% |
| Underworked | 6% |
| About right | 19% |
| Don't know | 14% |
The table below shows the raw data taken from the YouGov survey, in response to the question, 'Which ONE, if any, of the following do you think is the MAIN cause of medical financial compensation claims in the UK?'
| | Total |
| --- | --- |
| Unweighted base | 2147 |
| Base: All GB adults | 2147 |
| Overworked doctors/ nurses | 21% |
| Inadequate training of staff | 14% |
| Lack of hospital resources | 11% |
| Lack of funding for hospitals/ staff | 14% |
| Fraudulent claims | 17% |
| Other | 5% |
| Don't know | 19% |