Road Traffic Accident Injury Claims
Injured in a road traffic accident?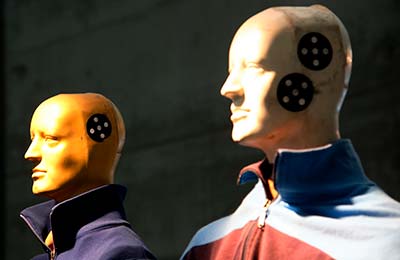 Driving in the UK is safer than it's ever been, thanks to a combination of driver education and the ubiquity of safety features such as air bags and crumple zones. Despite this, however, you can never truly allow for the recklessness of another driver, the dangers presented by unsafe driving surfaces or the harzards of bad weather.
According to a report released by the government in September 2017, figures show that during 2016, the overall number of road injuries has decreased in the last couple of years, though road deaths and serious injuries have slightly increased:
179,592 people were injured in road traffic accidents which were reported to the police, compared to 194,477 in 2014.
1,792 people were killed in accidents, compared to 1,775 in 2014.
24,101 of the total people injured suffered serious injuries, compared to 22,807 in 2014.
For more details of the situation, see gov.uk (pdf).
If you've been injured in a road traffic accident which wasn't your fault then you've every right to think about claiming injury compensation. In the immediate aftermath of an incident you're bound to be extremely shaken up and perhaps in physical pain. If possible, however, it's vital to start gathering evidence for your claim as quickly as possible. Even what seem like fairly trivial injuries can end up having a major effect upon your quality of life and if another party was negligent then it shouldn't be you that has to go on paying.
If you've been involved in a traffic accident then the first steps you should take run as follows:
Make sure, to the best of your ability, that everyone in the car is okay. Even if everyone appears to be fine you should seek medical attention as soon as possible, as they may have suffered internal injuries. On top of this, any medical records will form a vital part of your case when you wish to demonstrate that you have in fact been injured.
Under Section 170 of the Road Traffic Act 1988 you have to report an accident to the police under the following circumstances:
If someone has been injured.
If damage has been caused but the other party didn't stop.
If damage has been done and the other driver stopped but names and addresses were not exchanged.
For more details see content.met.police.uk
The official police report of your accident will also play a part in building your claim for compensation.
DID YOU KNOW: You can still claim if the other driver can't be traced
Time Limit – As with other personal injury claims, there is a three year time limit from the date of the accident during which you have to make a claim.
ROAD ACCIDENT VIDEO
This video gives a basic over of the claims process for road traffic accidents, and information on the fast-track system.
Evidence
Any no win no fee claim consists of proving that you have suffered a personal injury and also that the road accident was caused by someone else's negligence. Sometimes blame is obvious, and the other party will offer to settle without recourse to the courts. Other cases are more complicated and this is when you have to gather as much evidence as possible to support your claim. Evidence can take the following forms:
The accounts of anyone who witnessed the accident – Take the name and address of any witness immediately following the accident since confirmation of your account, particularly from an independent witness, will greatly bolster your case.
CCTV Footage – You have a legal right to ask for any CCTV footage featuring yourself from the owner of the camera, and this must be handed over within forty days. The details of the owner should be on a sign attached to it, although in some cases it may be as obvious as the business the camera is attached to. You should request the footage in writing, providing as many details as possible. (gov.uk)
Photographs – If possible take photographs of the scene of the accident, using your phone if need be. If this proves impossible try sketching the details whilst they are still fresh in your memory, including the position of each vehicle, the direction of travel and where any witnesses were standing.
Hospital Records – Keep records of any visits to hospital, the treatments you receive and any medication prescribed. These will play a vital role in demonstrating the type and extent of your injuries.
Details – Take down the name, address and insurance details of everyone involved. In case anyone opts to give false information you should also make a note of all registration numbers, since these will allow you to trace the owner of the car.
Receipts – Some of your compensation will be based upon the direct financial impact of the accident. This means that you should keep receipts for any expenses which arise directly as a result, as well as recording any earnings lost through having to take time off work.
An injury such as a broken leg, even if it's fairly minor, might receive up to £9,200 in compensation for the injury alone, before any financial impact is taken into account.
Public Transport
If you suffer an injury whilst using public transport – if the bus you're travelling on is involved in a collision, for example – then the owners and operators of the bus have clearly failed in their duty of care to you. Whether you make a claim against the driver of the bus, or the driver of the other vehicle, will depend upon the precise circumstances of the accident.
Whiplash
Whiplash is an injury to the tendons and ligaments of the neck caused when the head is jerked violently back and forth or sideways, i.e. during a road traffic accident. Often dismissed as a trivial complaint, whiplash can in fact become both acute and chronic, with more extreme symptoms including depression, anxiety and severe pain.
DID YOU KNOW: The symptoms of whiplash can take hours or even days to become apparent.
Even more minor cases can have a limiting effect upon the victim's social and working life, but in recent years personal injury claims for whiplash have come under attack from the government, with the Transport Select Committee Report of July 2013 stating that excessive claims for whiplash were driving up insurance premiums, and recommending that the government should require whiplash victims to produce more supporting medical evidence. The committee also stated, however, that genuine victims of whiplash should not be demonised and that the statistical evidence for the impact of exaggerated claims was extremely sketchy, with estimates ranging from 0.1% to over 60%.
Uninsured/Untraced Drivers
If you're involved in a road traffic accident, the standard procedure is to swap insurance details with the other party and then, if you go on to claim compensation from them for personal injury, to have the money paid through the motor insurance they've taken out. Occasionally, however, people are unlucky enough to be involved in an accident with a driver who is uninsured, or can't be traced. The good news is that the Motor Insurers' Bureau (MIB) steps into this space.
What is the MIB?
Every car insurance company in the UK has, legally, to be a member of the MIB, and contribute a levy to its funding. This funding is then used to compensate the victims of uninsured or untraced drivers.
Can I claim on a no win no fee basis?
Many of the lawyers and firms that make up our network of personal injury specialists will be delighted to take on your case on a no win no fee basis. No Win No Fee is a great option for those accident victims that are deserving of compensation, yet uncomfortable taking on such financial risk.
I'm still not sure, can we have a chat?
Absolutely! We'd be happy to help with any of your questions or concerns. Please feel free to complete our free, no obligation online claim form or give us a call anytime to discuss your compensation claim.