The Impact of Medical Negligence
Medical negligence is estimated to affect thousands of people in the UK every single year. It can include things such as prescription errors, surgical mistakes and wrongful diagnosis of a condition – each have the potential to dramatically impact people's lives.
To try and get a better understanding of the real impact of medical negligence, we commissioned a survey of 2,000 UK residents from leading market research and data specialists YouGov to look into just how many people are affected by medical negligence, and why they think it happens.
Over a third of people in the UK have…
Our data from YouGov showed that well over a third of people in the UK have been affected by medical negligence in some way, whether that was suffering it themselves, or watching a family member or a friend experience it.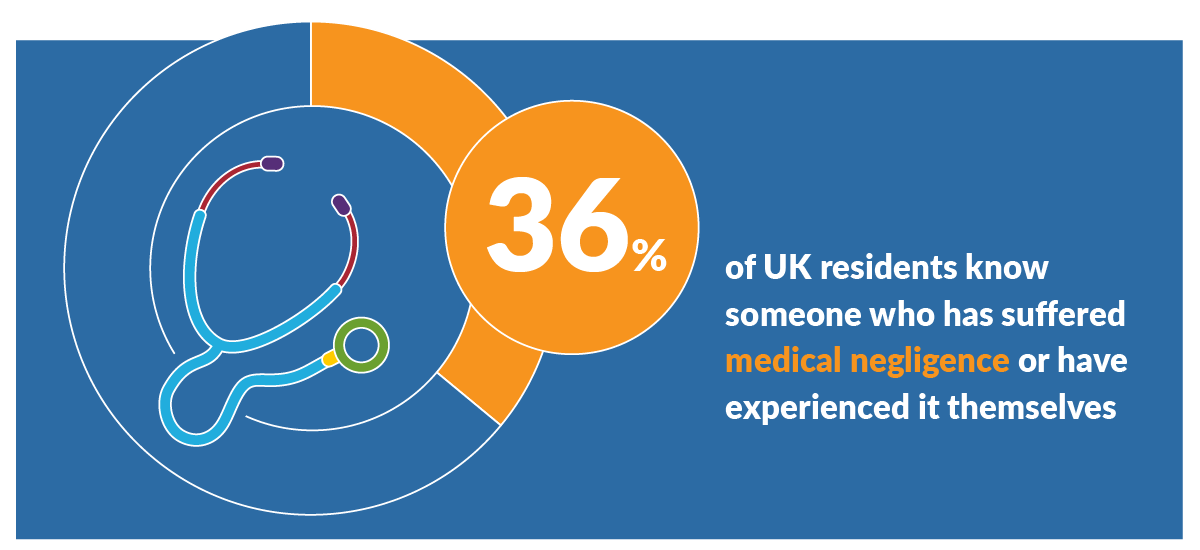 Of those who had been impacted by medical negligence…
Of those who responded to the survey saying they have been impacted by medical negligence: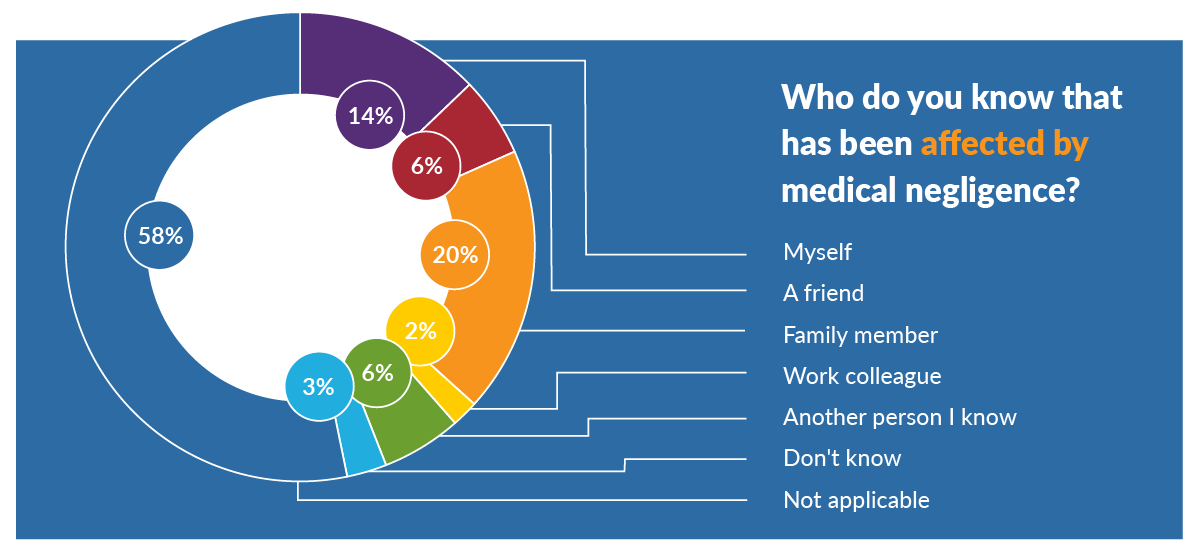 — 20% said that it was a family member who had suffered
— 14% said they'd suffered medical negligence themselves
— 6% said it was a friend
Living in Scotland?
You're more likely to be affected by medical negligence than anywhere else in the UK, where 20% of the people who answered the survey with "myself" were from. This was closely followed by Wales and London.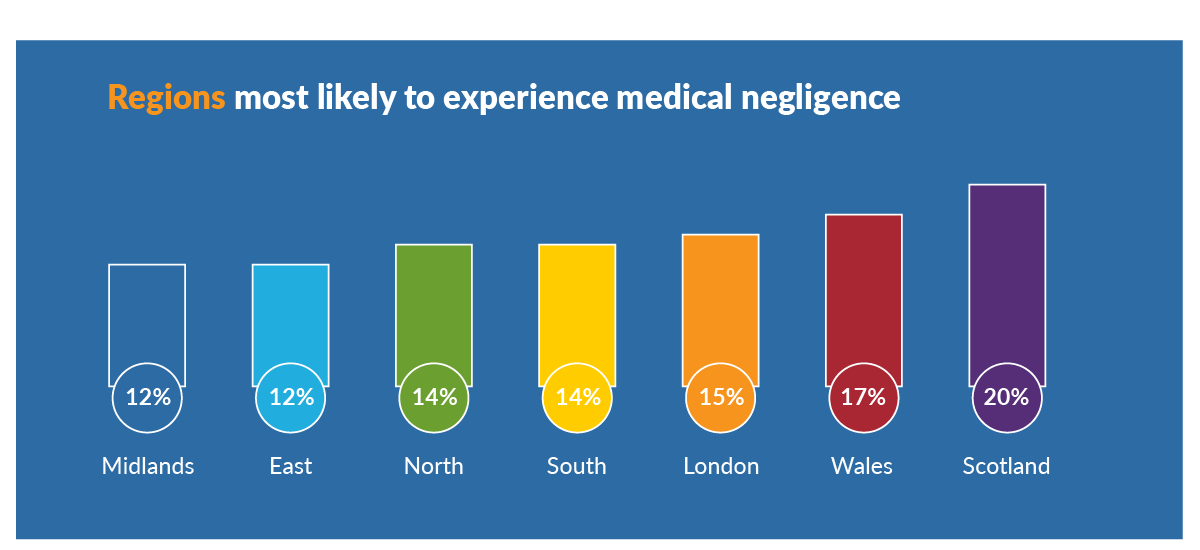 What's the biggest issue facing the NHS?
Our data also found that a third of the UK feels that the biggest issue facing the NHS regarding medical errors is simply that doctors and nurses are overworked.
This is a significant change from attitudes in 2015, when more people were inclined to feel that the cause was due to fraudulent claims.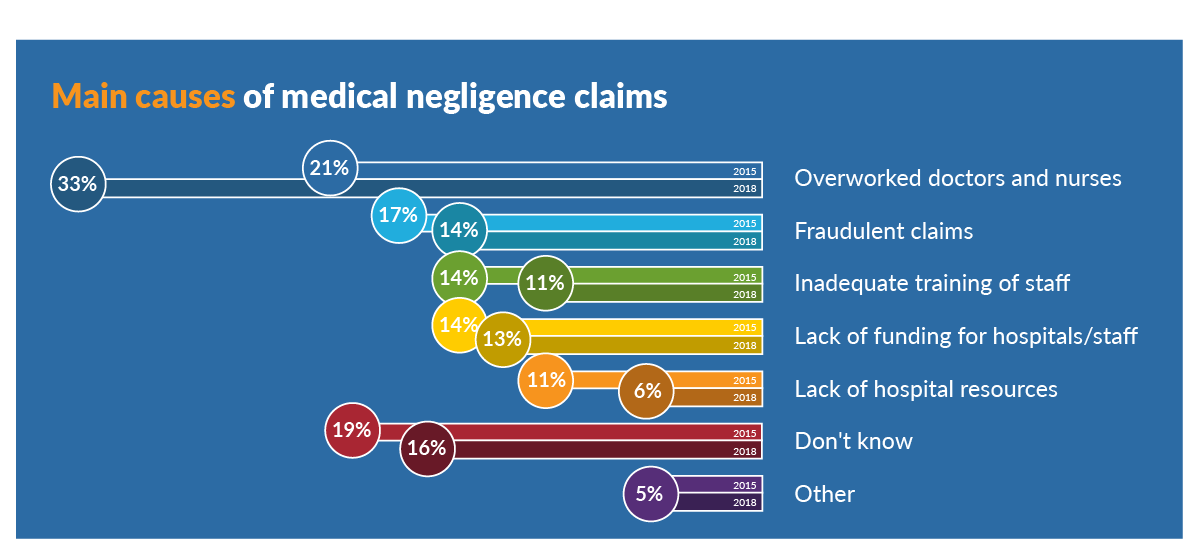 "People we surveyed have shown a change in attitude since 2015. Back then, only 21% thought that overworked staff were the cause of medical negligence claims, and attributed it to lack of hospital funds. Our survey has shown that the public are more aware of a strained NHS than ever before," Managing Director of claims.co.uk, John Quail said.
"When you go to the doctors or to a hospital for treatment, the last thing you expect is to leave feeling worse than you did going in. Unfortunately that's the sad reality for a lot of people in the UK right now."
Fair use notice
We grant permission to repost the images and data found on this page. When doing so, we ask that you kindly attribute by linking to claims.co.uk and this page so your readers can learn more about this survey and claims.co.uk's work.